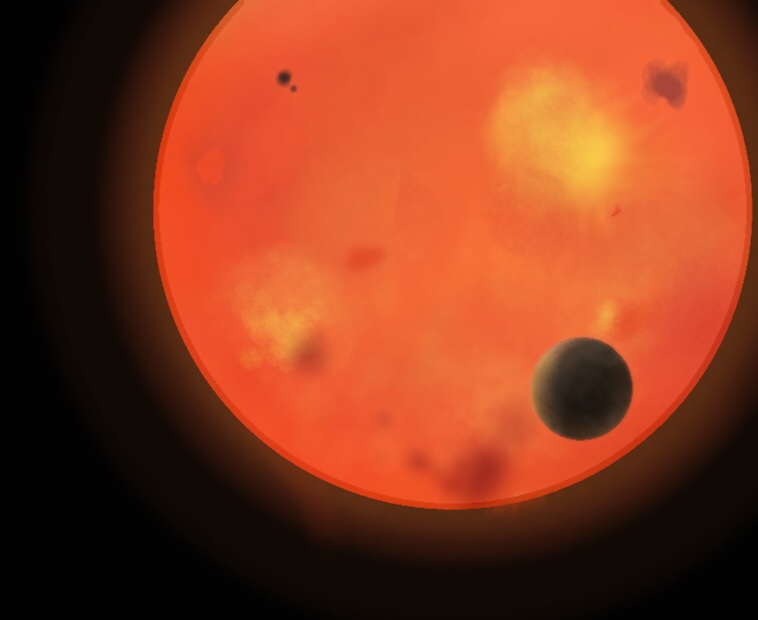 [Imaginary Picture of GJ 1214 b, Credit: C. Hatsuoka SGH Moriyama High School]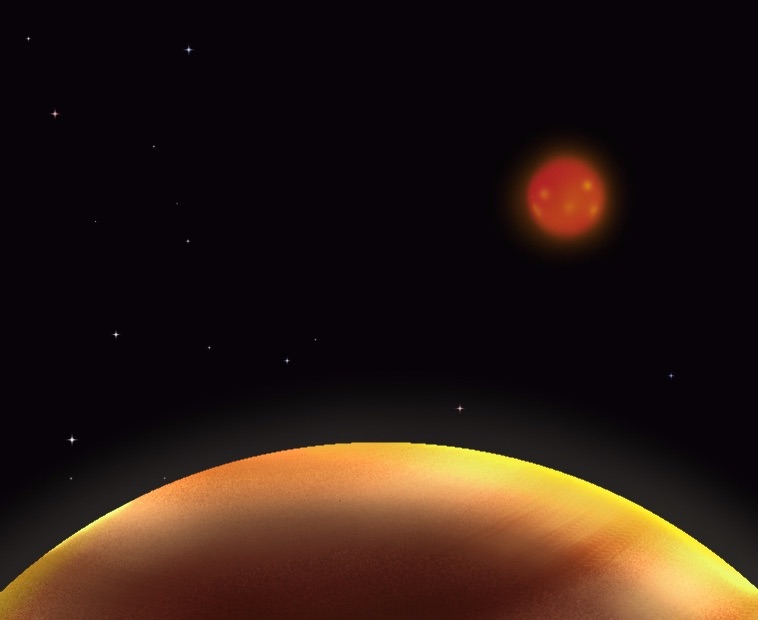 [Imaginary Picture of GJ 1214 b, Credit: C. Hatsuoka SGH Moriyama High School]
GJ 1214 b is an exoplanet that orbits the star Gliese 1214, and was discovered in December 2009. Its host star is about 40 light-years from the Sun, in the constellation Ophiuchus. GJ 1214 b is a likely known candidate for being an ocean planet. For that reason, scientists have nicknamed the planet "the water world". (*1)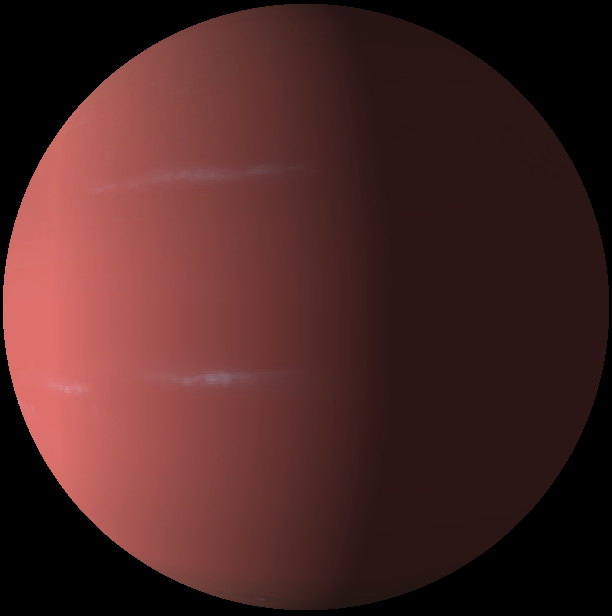 Previous studies of GJ 1214b yielded two possible interpretations of the planet's atmosphere. It could consist entirely of water vapor or some other type of heavy molecule, or it could contain high-altitude clouds that prevent the observation of what lies underneath.
But now the astronomers have detected clear evidence of clouds in the atmosphere of GJ 1214b. The Hubble observations also revealed no chemical fingerprints in the planet's atmosphere, but the data were so precise they could rule out cloud-free compositions of water vapor, methane, nitrogen, carbon monoxide, or carbon dioxide.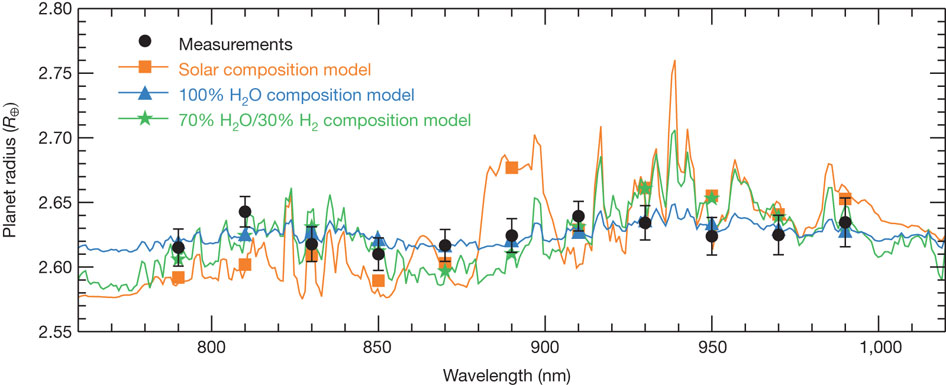 図1. Bean et al. (2010) Theoretical predictions of the transmission spectrum for GJ 1214b are shown for atmospheres with a solar composition (that is, hydrogen-dominated; orange line and squares), a 100% water vapour composition (blue line and triangles), and a mixed composition of 70% water vapour and 30% molecular hydrogen by mass (green line and stars). The points for the models give the expected values for the transmission spectrum in each of the spectrophotometric channels. The data are furthermore consistent with a hydrogen-dominated atmosphere with optically thick clouds or hazes located above a height of 200 mbar (not shown).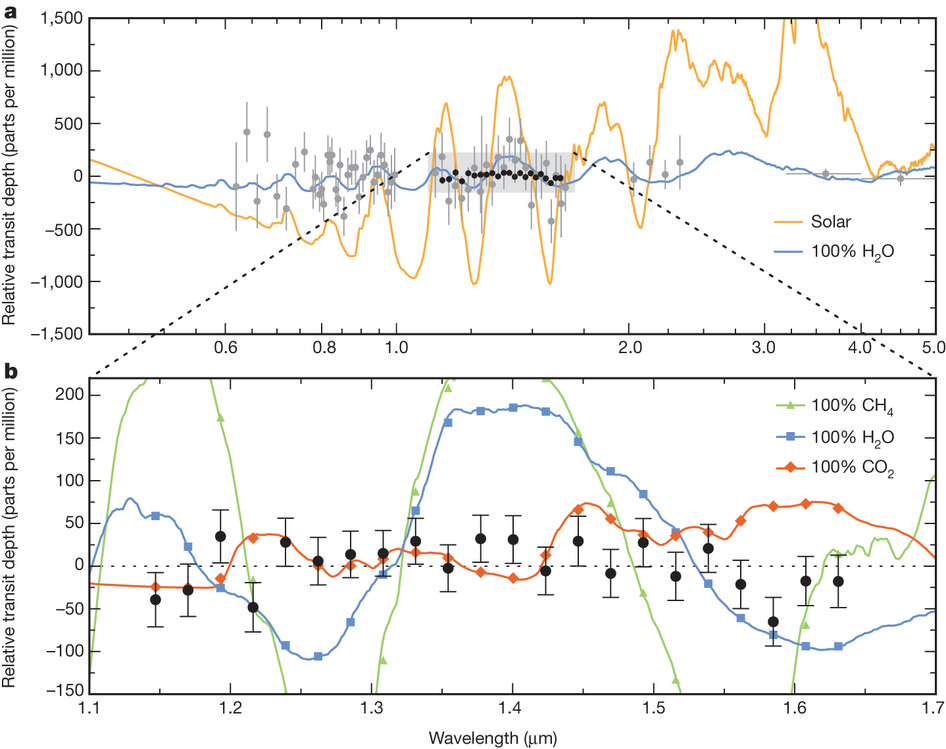 図2. Kreidberg et al. (2014)Transmission spectrum measurements from our data (black points) and previous work (grey points), compared to theoretical models (lines). The error bars correspond to 1σ uncertainties. Each data set is plotted relative to its mean. Our measurements are consistent with past results for GJ 1214b using WFC3. Previous data rule out a cloud-free solar composition (orange line), but are consistent with either a high-mean-molecular-mass atmosphere (for example, 100% water, blue line) or a hydrogen-rich atmosphere with high-altitude clouds.
*1 http://www.openexoplanetcatalogue.com/planet/Gliese%201214%20b/
Bean et al. (2010)
Jacob L. Bean, Eliza Miller-Ricci Kempton & Derek Homeier, A ground-based transmission spectrum of the super-Earth exoplanet GJ 1214b, Nature 468, 669-672.
http://ads.nao.ac.jp/abs/2010Natur.468..669B
Kreidberg et al. (2014)
Laura Kreidberg, Jacob L. Bean, Jean-Michel Désert, Björn Benneke, Drake Deming, Kevin B. Stevenson, Sara Seager, Zachory Berta-Thompson, Andreas Seifahrt & Derek Homeier, Clouds in the atmosphere of the super-Earth exoplanet GJ 1214b, Nature 505, 69-72
http://ads.nao.ac.jp/abs/2014Natur.505…69K