(Imaginary TRAPPIST-1 System by Exoplanetkyoto Image Credit: Yosuke A. Yamashiki, Ryusuke Kuroki, Natsuki Hosono)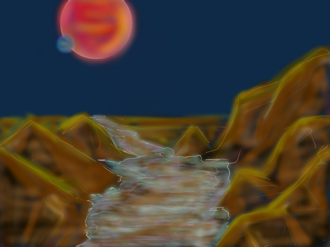 (Imaginary Picture of TRAPPIST-I d, Credit Shione Fujita & SGH Moriyama High School)
TRAPPIST-1 is located in the Aquarius constellation, about 39 light years from our solar system. It is a red dwarf M8 type star with a surface temperature of 2550K. It has a radius of 0.117 the sun, and a mass of 0.08 of the sun. Since Jupiter's radius is 0.1 of the sun, and its mass is 0.001 of the sun, it is apparently a bit larger. It is called an Ultra Cool Dwarf Star.

TRAPPIST is an abbreviation of TRAnsiting Planets and PlanetesImals Small Telescopes. The Institut d'Astrophysique et Géophysique at the University of Liège in Belgium used the telescope at the La Silla Observatory in Chile and at Oukaïmden Observatory in Morocco., to observe TRAPPIST-1 and search for orbiting planets. In 2016 at La Silla Observatory, 3 planets slightly bigger than earth were discovered, the first time this class of red dwarfs were discovered. The orbital distance of the third planet, TRAPPIST 1 d, was however, not confirmed for a certain period of time. This caused a rumor that the planets might not be habitable. However, it was determined not to be the case. 
In a press release on February 22, 2017, NASA announced the discovery of the most Earth-sized planets found in the habitable zone of a single star, called TRAPPIST-1. This system of seven rocky worlds–all of them with the potential for water on their surface–is an exciting discovery in the search for life on other worlds. There is the possibility that future study of this unique planetary system could reveal conditions suitable for life.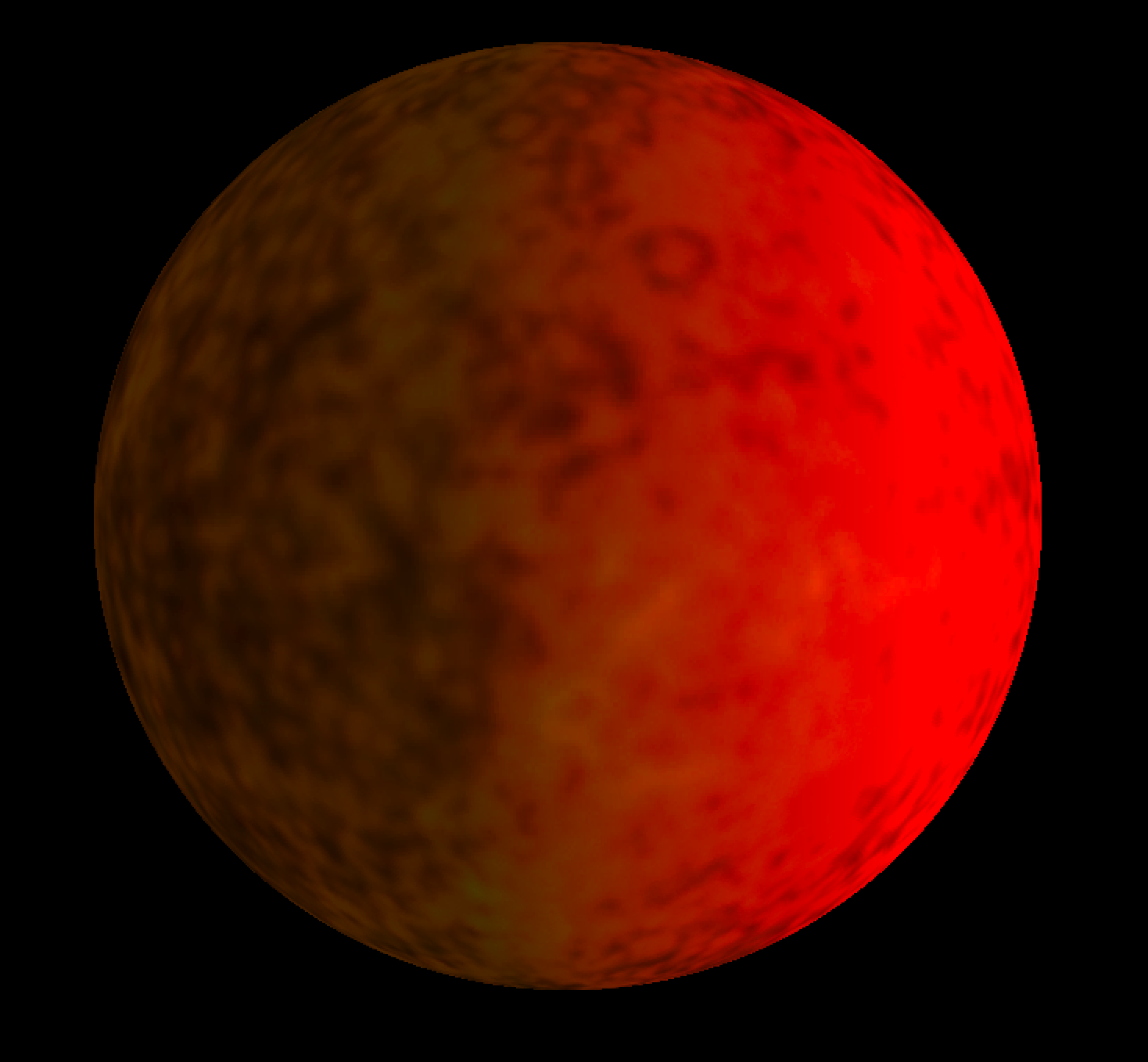 (Imaginary Picture of TRAPPIST-I b, credit, Yosuke Yamashiki, Ryusuke Kuroki & Natsuki Hosono)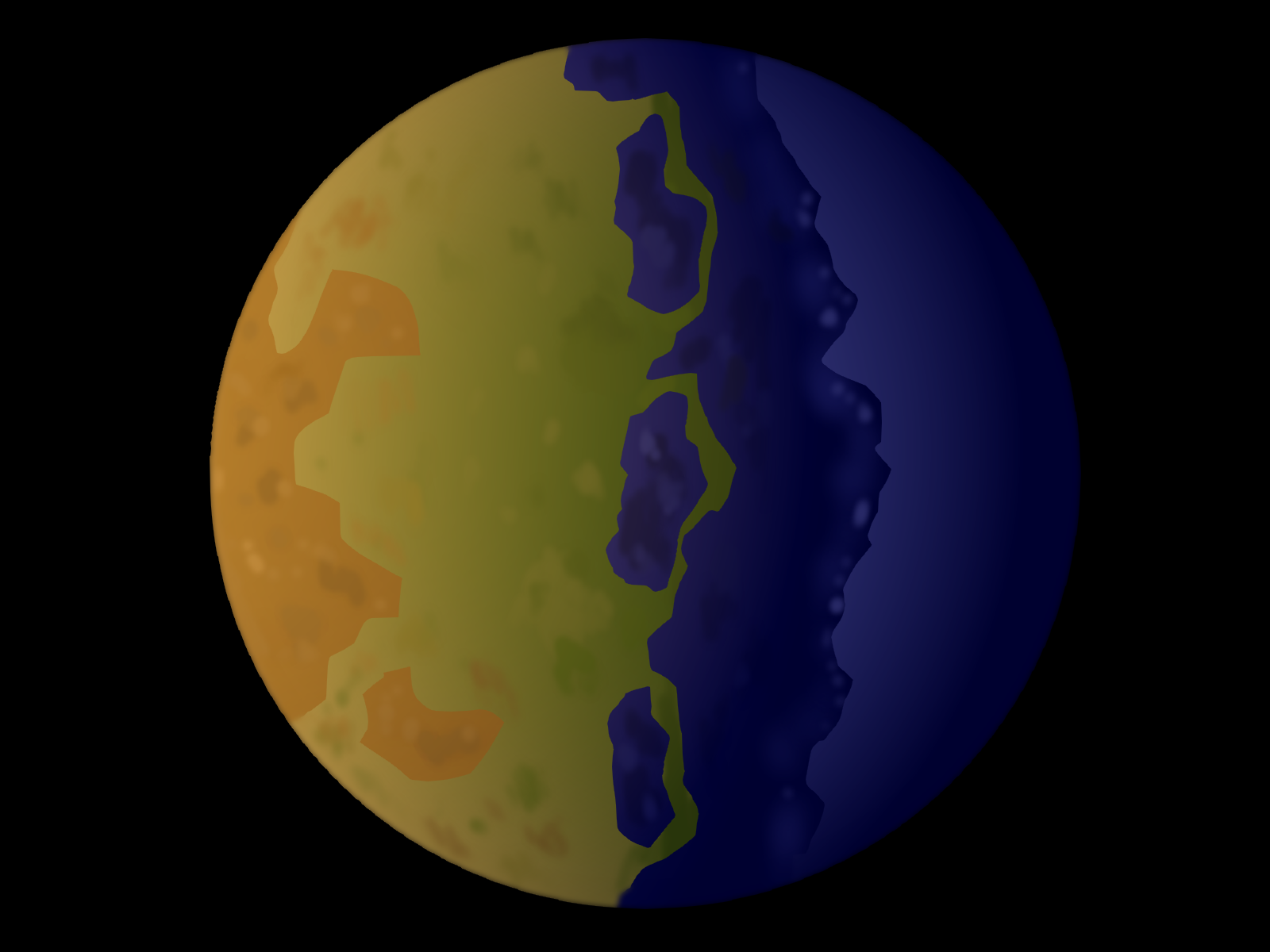 (Imaginary Picture of TRAPPIST-I d as Tidally locked planet : credit, Miu Shimizu SGH Moriyama High School Habitable Planet Research Group)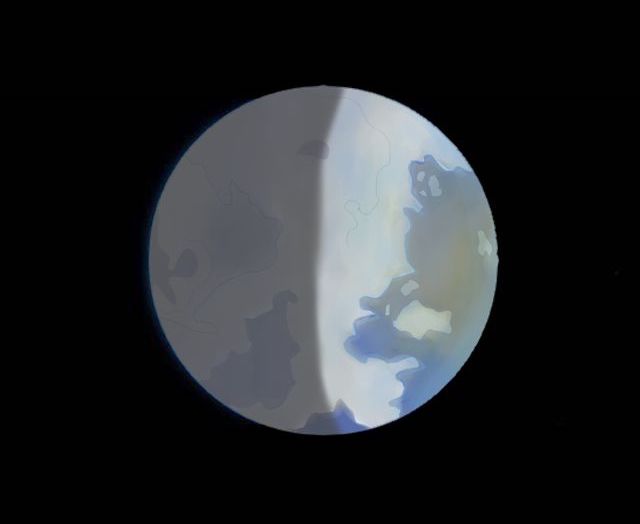 (Imaginary Picture of TRAPPIST-I e as Tidally locked planet : credit, Rina Maeda SGH Moriyama High School Habitable Planet Research Group)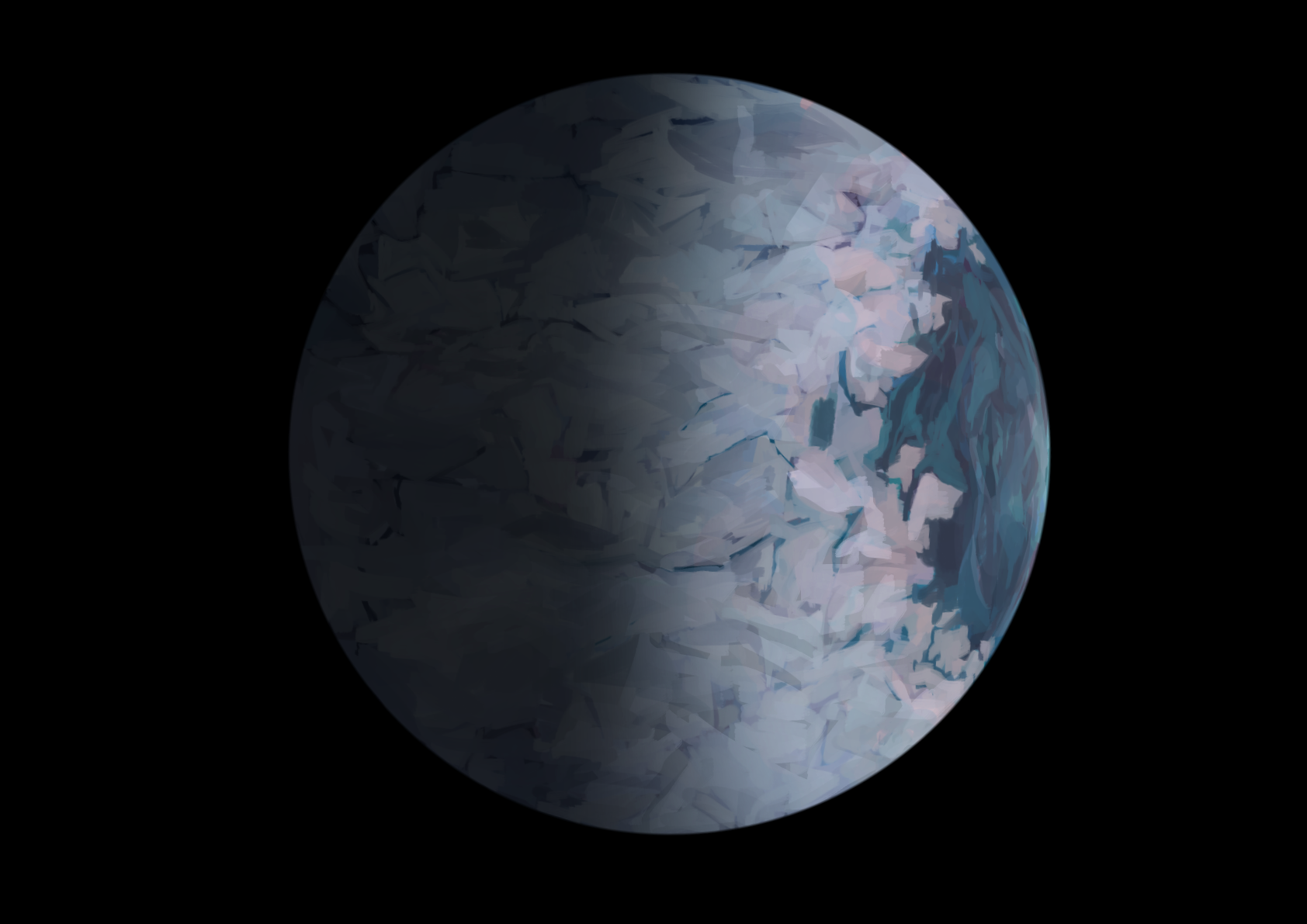 (Imaginary Picture of TRAPPIST-I f as Tidally locked planet " Eyeball Earth": credit, Haruka Inagaki SGH Moriyama High School Habitable Planet Research Group)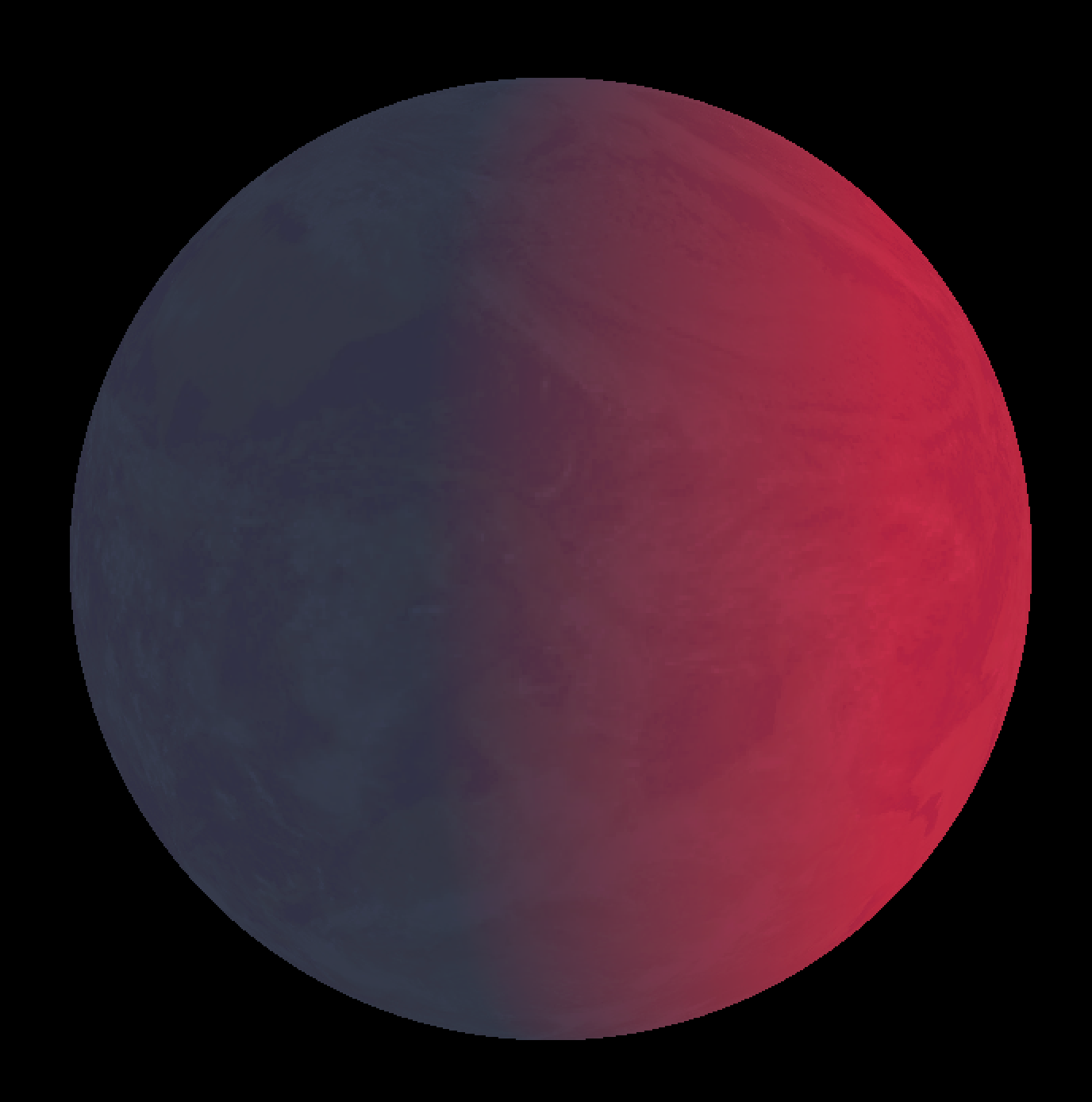 (Imaginary Picture of TRAPPIST-I h, covered with imaginary ice, credit, Yosuke Yamashiki, Ryusuke Kuroki & Natsuki Hosono)
(Orbital motion of TRAPPIST-1 b, c, d, e, f, g, h)
The revolution orbit radius of each planet (TRAPPIST-1 b, c, d, e, f, g, h) is  0.011, 0.015, 0.021, 0.028, 0.037, 0.045, 0.063 astronomical units respectively, and their size is estimated to be 1.08, 1.05, 0.77, 0.92, 1.04, 1.12, 0.76 times that of the earth. According to the Solar Equivalent Astronomical Unit (SEAU), this star's corresponding astronomical units for the solar system are:
Venus proportionate orbit 0.016 astronomical units
Earth proportionate orbit 0.023 astronomical units
Mars proportionate orbit 0.035 astronomical units



According to Kopparapu et al.2013
The interior boundary of Recent Venus is 0.019 astronomical units
The Earth size planet's rampant greenhouse limit is 0.024 astronomical units
The outer boundary of largest greenhouse is 0.048 astronomical units.
According to SEAU, b has a higher temperature, and b, d, and e are thought to be located in the habitable zone.


However, as for b and c, if the tide is locked, the boundary (terminator) between the planet's noon hemisphere and midnight hemisphere might be in the habitable zone. Taking that into account, b, c, and d have gained popularity because of the possibility they are habitable.
Nonetheless, there is only red light, so it going there could be difficult, after living in the shining blue LED light like Earth. The years are also very short (1.5 to 20 days) so it doesn't seem like suitable place for human beings. However, since the lifespan of a red dwarf is extremely long when compared to our sun, perhaps in the future there is a possibility that an advanced life form could build a civilization.

(According to SEAU, the red line is a Venus proportionate orbit, the green line is an Earth proportionate orbit, and the blue line is a Mars proportionate orbit.)
The NASA page has introduced colorful maps and 3D images of these planets.
https://exoplanets.nasa.gov/trappist1/
In the imagined planets shown here, TRAPPIST-1b is shown as a larger analogue to Jupiter's moon Io. TRAPPIST-1d is depicted with a narrow band of water near the terminator, the divide between a hot, dry day and an ice-covered night side. TRAPPIST-1e and TRAPPIST-1f are both shown covered in water, but with progressively larger ice caps on the night side. TRAPPIST-1g is portrayed with an atmosphere like Neptune's, although it is still a rocky world. TRAPPIST-1h, the farthest from the star, would be the coldest. It is portrayed here as an icy world, similar to Jupiter's moon Europa, but the least is known about it.
http://www.spitzer.caltech.edu/images/6266-ssc2017-01a-TRAPPIST-1-Planet-Lineup
The seven Earth sized planets all have the possibility of liquid water, which is an extraordinary Exoplanet discovery. Also, compared to the sun, a red dwarf's life span is significantly longer. This means civilizations have an extremely long time to evolve, which could mean that each of the planets has the possibility of being an earthly paradise.
(Yosuke Yamashiki, translated by Cassandra Ling)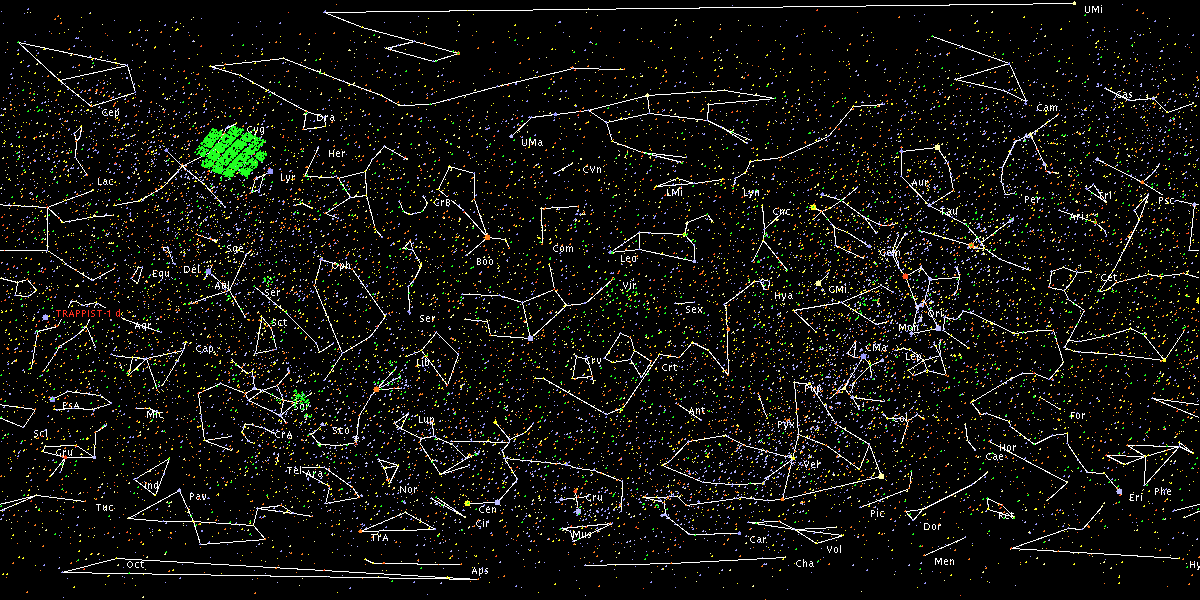 (Position in Stellar Map of star TRAPPIST-1 and its Exoplanet TRAPPIST-1 d)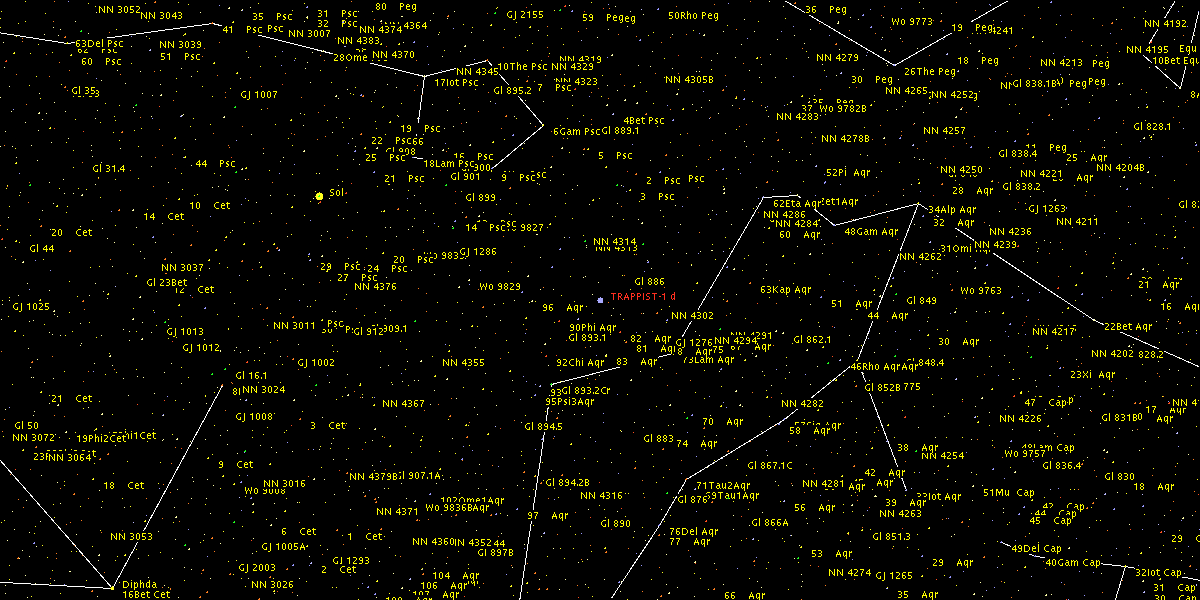 (Zoomed pos.in Stellar Map of star TRAPPIST-1 and its Exoplanet TRAPPIST-1 d)
1)Michaël Gillon, Emmanuël Jehin, Susan M. Lederer, Laetitia Delrez, Julien de Wit, Artem Burdanov, Valérie Van Grootel, Adam J. Burgasser, Amaury H. M. J. Triaud, Cyrielle Opitom, Brice-Olivier Demory, Devendra K. Sahu, Daniella Bardalez Gagliuffi, Pierre Magain & Didier Queloz, Temperate Earth-sized planets transiting a nearby ultracool dwarf star, Nature 533, 221–224 (12 May 2016) doi:10.1038/nature17448, Received 11 January 2016 Accepted 18 February 2016 Published online 02 May 2016
http://www.nature.com/nature/journal/v533/n7602/full/nature17448.html
https://www.theguardian.com/science/2016/may/02/could-these-newly-discovered-planets-orbiting-an-ultracool-dwarf-host-life
2)Michaël Gillon, Amaury H. M. J. Triaud, brice-Olivier Demory, Emmanuël Jehin1, Eric Agol, Katherine M. Deck, Susan M. Lederer, Julien de Wit, Artem burdanov, James G. Ingalls, Emeline bolmont, Jeremy Leconte, Sean N. Raymond, franck Selsis, Martin Turbet, Khalid barkaoui, Adam burgasser, Matthew R. burleigh, Sean J. Carey, Aleksander Chaushev, Chris M. Copperwheat, Laetitia Delrez, Catarina S. fernandes, Daniel L. Holdsworth, Enrico J. Kotze, Valérie Van Grootel, yaseen Almleaky, Zouhair benkhaldoun, Pierre Magain & Didier Queloz. Seven temperate terrestrial planets around the nearby ultracool dwarf star TRAPPIST-1. Nature 542, 456–460 (23 February 2017) doi:10.1038/nature21360. Received Accepted Published online 
http://www.nature.com/nature/journal/v542/n7642/full/nature21360.html