HD 164595 b is a 'Warm Neptune' Exoplanet discovered by Courcol in 2015, and is about 94 light years (28.9 pc) away from our solar system.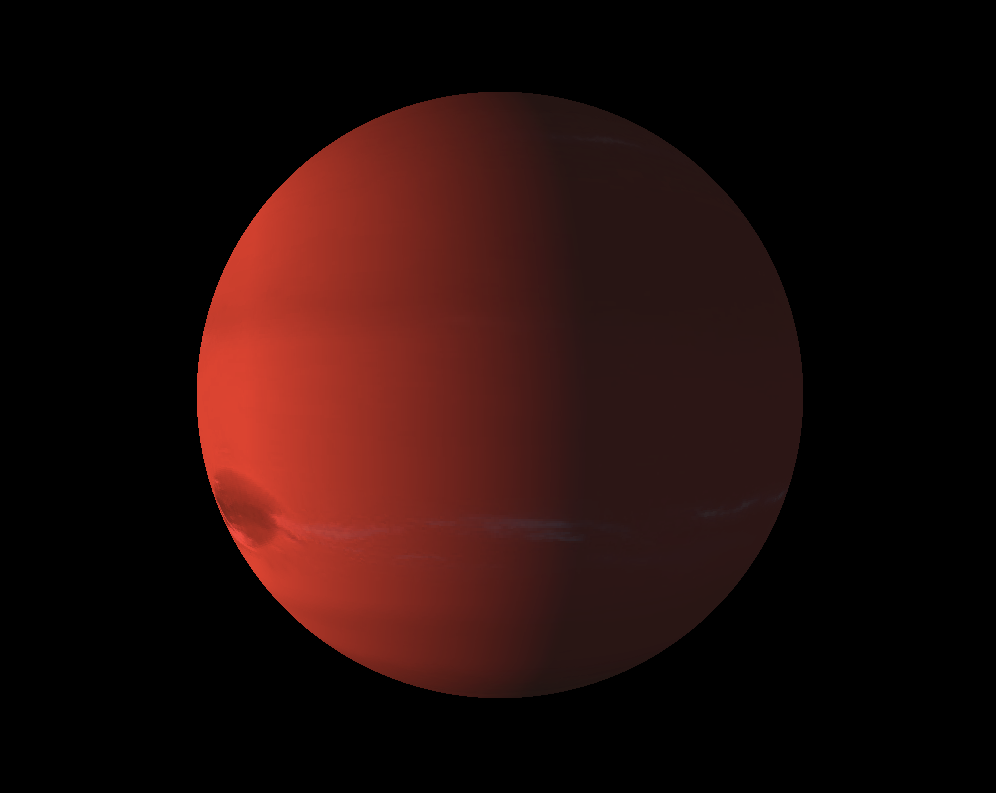 (Imaginary Picture of Warm Neptune HD164595 b)
The host star, HD 164595 is the same as our sun, a G-type star (G2V), with a surface temperature of 5790 degrees, and a mass 0.99 that of our sun. Therefore, it is thought that HD 164595's solar system is habitable, almost the same as our solar system. However, HD 164595 b's orbit radius is 0.23 astronomical units, and its orbit is inside that of Mercury. It has a revolution of 40 days, a mass of about 16 times that of the Earth, and a radius about 4.17 times, it's called a Hot/Warm Neptune. Although there was no measurement of the surface temperature, the planet's albedo is assumed to be 0.3, and the black body temperature is 531 Kelvin (258℃) which fittingly becomes higher, which makes it unsuitable for life like earth. For example, even if this planet has a large satellite, from that orbit, it is difficult for it to be in the habitable zone.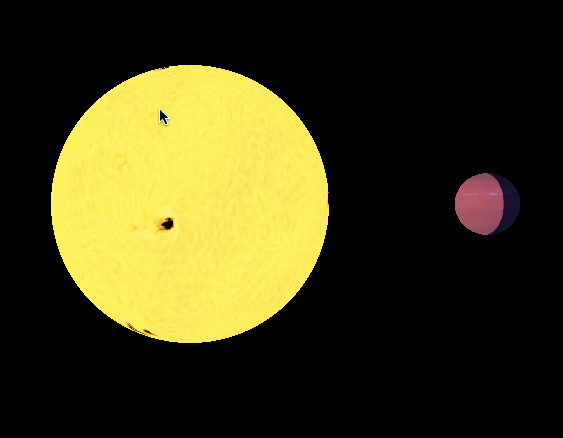 (Imaginary Picture of Warm Neptune HD164595 b orbiting around its Host Star HD164595)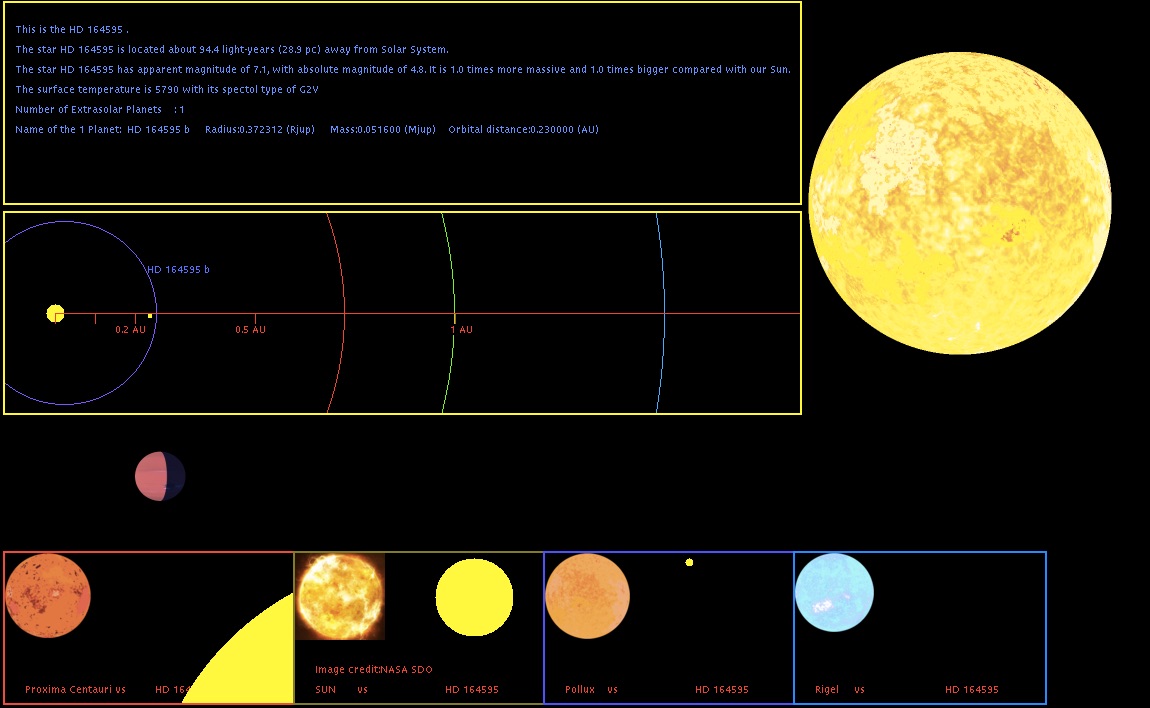 (The display of the host star HD 164595 from ExoKyoto (application edition). The host star is a G type star (G2V), and the 4 bottom pictures compare its size to others. From the left, the first picture is compared to Proxima Centauri, which was discovered in the habitable zone; the second is our sun (almost the same size); the third is compared to Pollux in the Gemini constellation; and on the right is compared to Rigel in the Orion constellation. Displaying the habitable zone using the Solar Equivalent Astronomical Unit (SEAU), the red line represents Venus' orbit, the green line represents Earth's, the blue represents Mars' orbit. From this host stars data, it is estimated that it is the same as our sun.)



(According to ExoKyoto, a display of HD 164595's orbit and habitable zone (Kopparapu et al. 2013). As understood from within an orbit corresponding to that of Venus.)
In 2016, it was announced that there was a 11GHz radio wave signal discovered, coming from this star system.
(CNN News)
(Wired日本語記事)
Currently, there is much argument about the truth of the 11GHz radio signal, but there are a few possibilities as to where it originated; 1) It could be from not HD164595 b, but another undiscovered planet with a rocky surface located in the same star system's habitable zone; 2) The intelligent life could be something unlike that on earth (things living in a super hot environment, or an environment without water); or 3) The signal could not be from intelligent life at all; 4) The accidental work of a gravitational lens or other body in space; or 5) It could simply be an observational error.
If you have an interest in observing HD 164595 through a telescope, it is located in the Hercules constellation, from the summer to autumn night sky.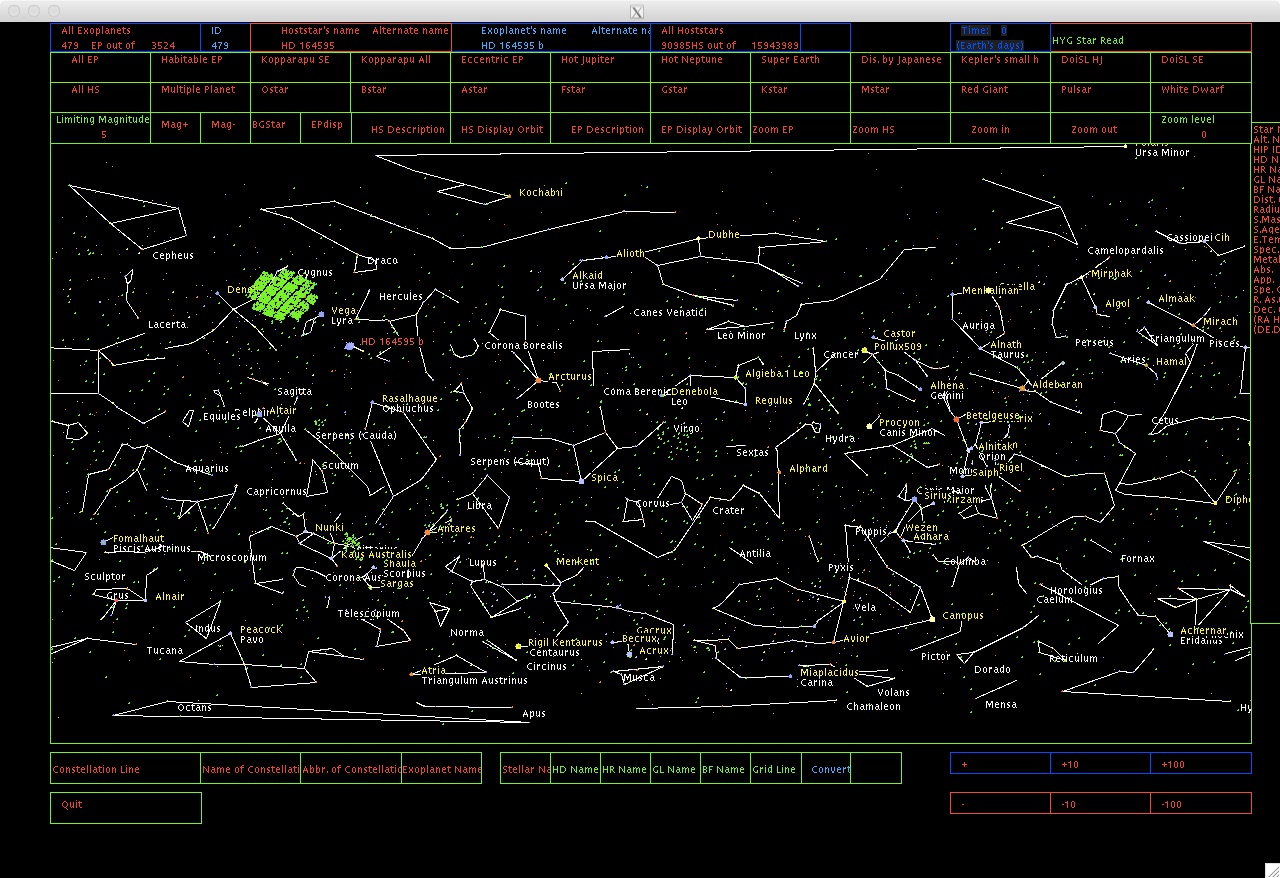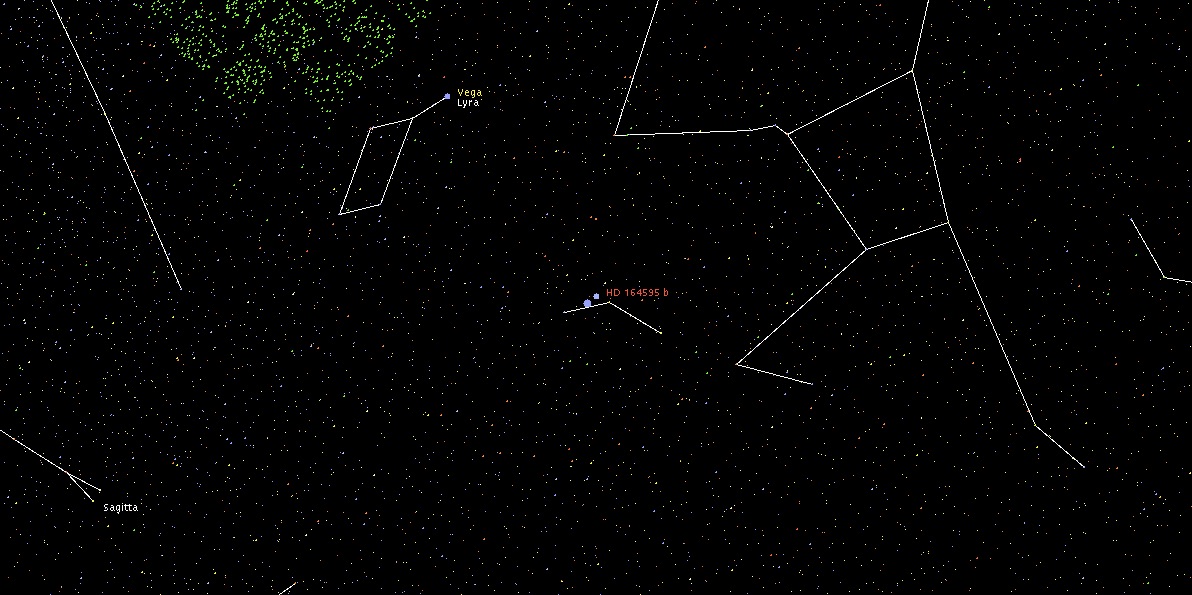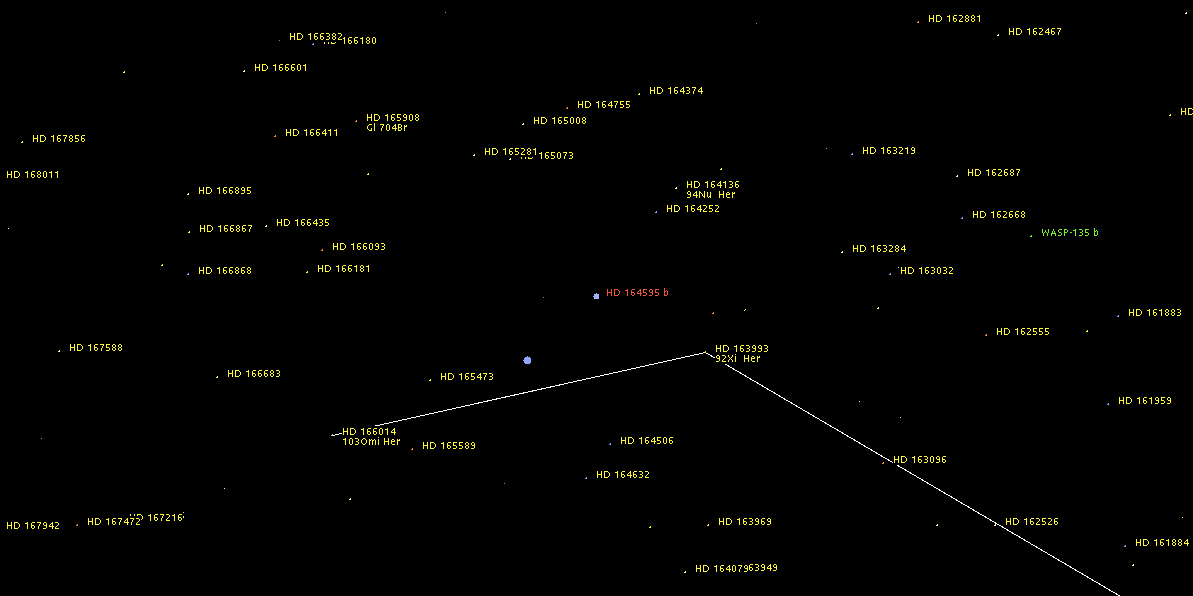 (The location of HD 164595 using ExoKyoto Stellar Window)
For more information on HD 164595:
http://www.exoplanetkyoto.org/exohtml/HD_164595_b.html
(文責:山敷庸亮)
(Translated by Cassandra Ling)